Custom
Human Machine
Interface (HMI)
Design
Some applications demand a tailored and tactile user experience. We design and build custom HMIs and controls that permit increased efficiency, usability, and accuracy.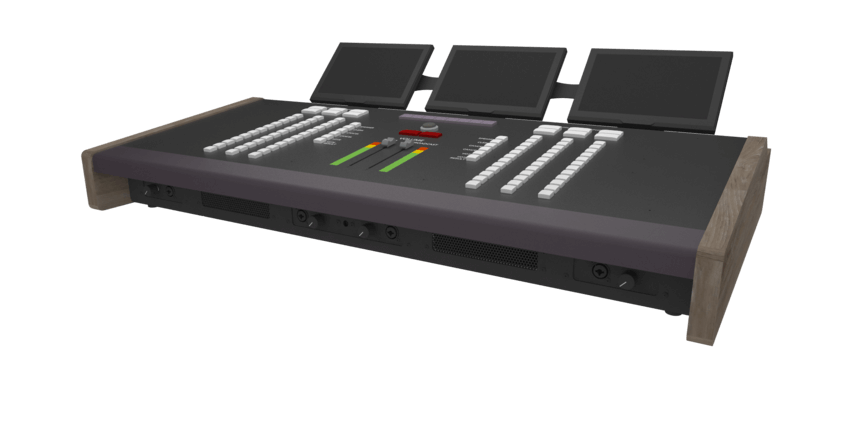 INNOVATIVE AUDIO & VIDEO CONTROL SYSTEMS
Custom Console Designs
Our most recently designed control consoles were commissioned by the Canadian Government for the new Parliament and Senate buildings. Features included:
206 LED push buttons for mic control
8 NKK Smart switch OLED buttons for feature selection and navigation
2 NKK Microphone talk back buttons
2 Penny & Giles 100mm motorized faders
Dual redundant and independent LAN outputs. All commands are sent and received on both LAN networks simultaneously. Each LAN is configurable separately
Dual redundant power supplies with active OR load sharing and fault monitoring.
4 independent, specialty designed, high quality, low noise, high CMR headphone amplifiers.
Easy interfacing with popular control systems.
Padded arm rest
CUSTOM DESIGNS
Superior User Experience on New or Existing Devices
A critical design factor in almost all industrial systems is the level with which operators and maintenance personnel are able to seamlessly operate and manage the system on a daily basis. This is best accomplished by employing human machine interfaces (HMI).
CONTROL & VISUALIZATION OPTIONS
Custom HMIs help improve Reliability, Efficiency, and Productivity
Our team of experts have created a wide array of HMIs that are reliable, highly efficient, and user-friendly. We focus on designing and engineering custom HMIs that are an integral part of various device options for preeminent controls and high visualization capabilities. Our systems offer comprehensible, intuitive and effective solutions.
Throughout our work, we encourage operators and maintenance personnel to provide input and real-time feedback at all stages of the project. This way, our experts and the operators will work hand-in-hand to provide "real world" input and promote ultimate ownership of the solution and thereby ensuring a successful implementation.
INNOVATIVE DESIGNS TO MEET NECESSARY SPECIFICATIONS AND STANDARDS
Adopt higher levels of standards through our Custom HMI Design Solutions
We work hard to provide a wide range of design, engineering, and manufacturing solutions. Symphony Interactive provides custom integrated system design, development, and implementation that is based on numerous evaluations and an analysis of a number of standards.
Ready to bring your project to life?