Understand your business
Metrics & Planning
At the click of a button, Conductor provides the ability to visualize key operating metrics of your enterprise.
What percentage of the building spaces and equipment are actually being utilized?
Was the failure rate of a given device within spec?
Is your enterprise on track to meet its annual energy targets?
What is the average response time to resolving maintenance and failure tickets?
The Conductor platform provides an easily customizable dashboard for any user, with tailorable metrics, graphs and charts designed to display the data you actually need.
Scheduling
From a single interface, Conductor's scheduling module can trigger events across all networked enterprise systems.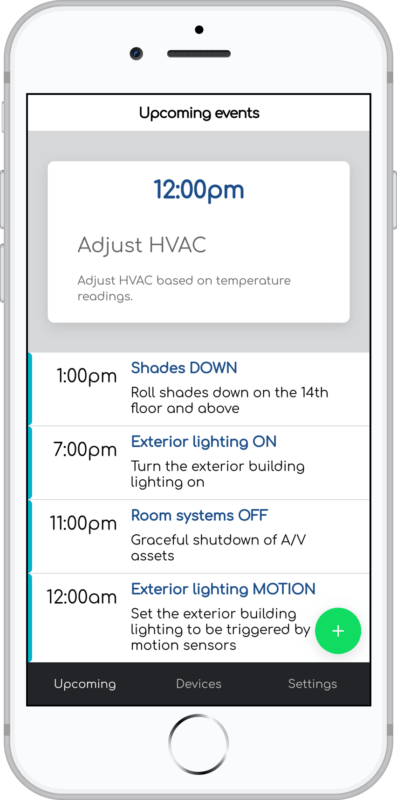 Enterprise Wide Automation & Integration
Conductor employs a diagrammatic automation programming environment, allowing users to easily visualize and compose complex enterprise automation rules and flows.
Easy to Specify
The Conductor CODA Gateway simplifies the process for architects, engineers and designers in delivering a truly smart building or tenant space by providing a hard demarcation point between the trades. Once a CODA Gateway is installed on a trade's network, it is automatically incorporated into the Conductor Enterprise.
INSIGHTS & ARTIFICIAL INTELLIGENCE
Artificial Intelligence holds the key to optimization and uncovering ROI opportunities. Conductor's graphical API-based programming model, built-in TensorFlow integration and ability to connect to external AI APIs such as IBM Watson™ gives your enterprise the power to tap deep into building data and proactively react to it.
Let us show you how Conductor can Uncover Hidden Growth Potential